Fintech Startups
What is NayaPay ? How to Use NayaPay Account In Pakistan – Complete Details
NayaPay has recently joined Pakistan's growing microfinance banking sector alongside established players such as JazzCash and EasyPaisa. Microfinance banking has become a prevalent solution in developing countries to provide financial services to low-income individuals.
Globally, microfinance initiatives have positively impacted over 500 million people by providing access to affordable small business loans. To compare the different microfinance banking systems, one must familiarize oneself with each individual.
What is the difference between EMI and Microfinance Bank?
EMI and Microfinance Banks are two different financial concepts.
EMI stands for Equated Monthly Installments, a term used in loan repayment. It refers to a fixed amount a borrower must pay monthly to repay the loan, including the principal amount and the interest. EMI is used for various types of loans, such as personal, car, home, etc.
On the other hand, Microfinance Banks are financial institutions that provide financial services, including loans, savings, and insurance, to individuals with low income who do not have access to traditional banking services. The main objective of Microfinance Banks is to provide financial inclusion to those who are otherwise excluded from the formal banking sector.
So, while EMI is a repayment method used in loan repayment, Microfinance Banks are institutions that provide financial services to low-income individuals.
Every Thing You Need to Know About NayaPay
The State Bank of Pakistan (SBP) has authorized NayaPay (Private) Limited as an Equated Monthly Installment (EMI) provider. The company boasts a user-friendly website, allowing for seamless navigation. In addition to sending money to friends and family for free, NayaPay offers instant access to a Visa debit card for online and offline payments.
The Visa debit card is widely accepted by millions of merchants worldwide and can be used at all 15,000+ ATMs across Pakistan. Users can quickly control their payments and freeze their cards through the NayaPay app, with no hidden charges or annual fees. A virtual Visa debit card is also available on the NayaPay phone app.
Also Read: Everything You Need to Know About Sadapay in Pakistan
Does NayaPay accept payments from international cards?
It is possible to use a foreign card for payments; remember that the Merchant Discount Rate (MDR) may be higher than a local card, which will be disclosed during the registration process. Regardless of the currency the transaction uses, the funds will be received in Pakistani Rupees (PKR). NayaPay also provides an opportunity to receive international payments, making it a valuable tool for individuals who work with foreign currencies and receive online payments.
How you can maintain your NayaPay?
It is crucial to keep the information in your NayaPay account accurate and up-to-date. To ensure the validity of your information, we may request confirmation of your identity through documents or other verification methods.
Only the designated holder or user of a Load Method can add it to a NayaPay account. Including a Load Method for which you are not the specified holder or user is considered fraudulent.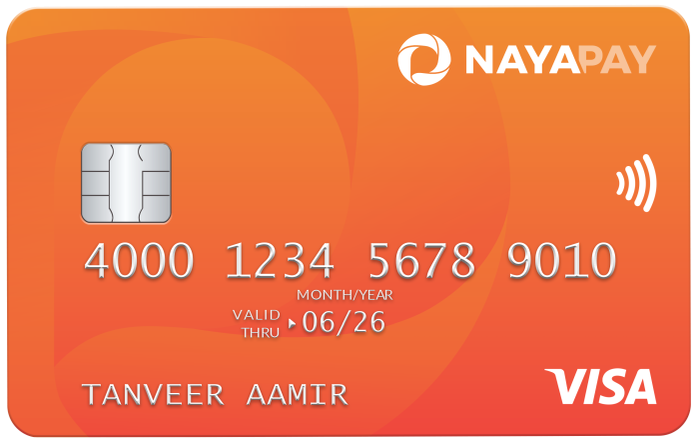 When using NayaPay Payment Services, the platform keeps track of every payment made and assigns a unique transaction ID for each transaction. This information can be found in the transaction history and cannot be altered or edited. Please provide the relevant transaction ID and contact Customer Service to inquire about a specific transaction. Regularly monitoring your NayaPay balance and transaction history is recommended.
In the event of unauthorized or incorrect transactions, it's essential to notify NayaPay as soon as possible, but no later than three months from the date the transactions occurred, to ensure a prompt resolution.
What does signing up on NayaPay do?
Customers can sign up for a free Visa virtual card, which they can use to make purchases on popular international websites such as Amazon, AliExpress, Facebook, and Netflix. NayaPay also offers a physical Visa debit card, at no cost, that can be used for transactions at over 46 million retailers globally, providing added convenience.
According to the company's founder and CEO, Danish A. Lakhani, NayaPay has received "trust and support from Pakistan's State Bank in its mission to offer new services that were previously only accessible to a limited portion of Pakistani society." With its low-cost, secure digital platform that supports payments, communications, and seamless customer-business interactions, NayaPay aims to lead the digitization efforts in Pakistan.
With the full launch of its consumer app, NayaPay now enables consumers to access their funds through a digital wallet on their smartphone from anywhere and at any time.
How to transact internationally?
With the facility of making international transactions more accessible, the process is simple as well. With the help of following instructions, you can learn to transact internationally.
It would help if you double-checked that the credit card you use to pay using PayPal is legitimate.
Before you link your accounts, be sure PayPal can handle international transactions with your bank.
Find out how much money you can spend by contacting your bank.
NayaPay and Euronet
As a leading financial technology provider and payment solutions, Euronet has become integral to NayaPay's platform. NayaPay will use Euronet's gateway services to process POS transactions and handle the settlement and clearing of e-commerce and card association transactions for international schemes such as Visa and MasterCard. With Euronet's PCI-DSS-certified infrastructure hosting the gateway services in Pakistani data centers, NayaPay merchants can expect higher levels of service and reliability.
NayaPay Arc's mission is to empower entrepreneurs and small business owners who have never been registered with banks, prefer to transact in cash, and have limited access to commercial banking. Arc provides a comprehensive suite of financial management tools to help business owners manage their cash flow, pay vendors, and increase profits. Opening an Arc merchant account allows customers to accept payments through debit and credit cards, bank transfers, or RAAST within minutes.
How does NayaPay benefit?
NayaPay offers a unique advantage by allowing users to manage their virtual currency accounts, eliminating the need to carry physical credit and debit cards. With its mobile-based application, small business owners, traders, and vendors can efficiently conduct digital transactions using their cell phones. This low-cost and efficient service is particularly useful for freelancers and those with online businesses. NayaPay has also signed a memorandum of understanding with several banks to create a seamless digital transaction network.